A1200 version
Digital Download
AmiKit XE
You can use AmigaOS 3.1.4 to install AmiKit XE directly.
Or if you already installed AmiKit with some other AmigaOS, you can update to AmigaOS 3.1.4 via MorpheuZ (see instructions below).
​
AmiKit X
In AmiKit X, the AmigaOS 3.1.4 can only be installed on top of running AmiKit X previously installed with any other AmigaOS version.
To update to AmigaOS 3.1.4, update your AmiKit X to v10.5.1 (or better) via Live Update, run MorpheuZ and click the "OS Update" button.
We recommend to back up your AmiKit first. The installation of AmigaOS 3.1.4 is on your own risk & responsibility and it's irreversible.
WHICH OS CAN I UPDATE ?
---
Short answer: ANY!
​
No matter which AmigaOS version did you use to install AmiKit, the AmigaOS 3.1.4 can be installed on top of any of them. That means our install script updates your AmigaOS 3.1 (from OS41FE CD) as well as AmigaOS 3.5 or 3.9 (with or without Boing Bags) and Amiga Forever too! With new AmiKit XE you can install AmigaOS 3.1.4 directly.
---
WHAT DO I NEED?​
---
AmigaOS 3.1.4 installation requires AmiKit X already running on AmigaOS 3.1 or 3.5 or 3.9 or XL or AmigaForever. See AmiKit requirements. Make sure your AmiKit X is version 10.5.1 or better. If not, update it via free Live Update. With new AmiKit XE you can install AmigaOS 3.1.4 directly.
​
You also need the AmigaOS 3.1.4 ZIP archive itself, of course. We recommend the Amiga 1200 version. The other supported versions are A4000 and A4000T.​
---
WHICH VERSION OF AMIGAOS 3.1.4 SHOULD I USE?
---
We recommend the Amiga 1200 version of the AmigaOS 3.1.4. The other supported versions are A4000 and A4000T.​
---
HOW TO UPDATE AMIKIT WITH NEW AMIGAOS 3.1.4?
---
It's very easy! But first of all, it's good idea to backup your current AmiKit installation because the update is irreversible. Okay, ready?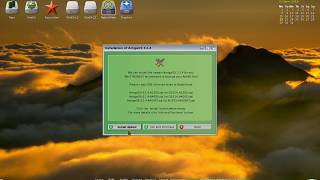 1. ​ Place your AmigaOS 3.1.4 ZIP archive to RabbitHole: folder located on AmiKit desktop. Just copy the archive there, do NOT unpack it. The A1200 version of the archive is named " AmigaOS-3.1.4-A1200.zip" or "OS314_A1200.zip". If you have A4000 or A4000T version, their archive names may differ, of course. 2. Run MorpheuZ (right-mouse click on empty AmiKit desktop > AmiKit > MorpheuZ) and click the "OS Update" button. The rest is automated. At the end of installation you will be asked to shut down the emulation and restart AmiKit. That's it!
---
WHAT EXACTLY HAPPENS DURING UPDATE?
---
Interested in details? Here you go.
AmigaOS 3.1.4 archive is extracted to RAM:
A backup of Prefs, Catalogs and other OS3.5/3.9 specific stuff is created if found.
AmigaOS 3.1.4 disks are mounted one by one and their content is copied to AmiKit with care.
SVX datatype is disabled and 8SVX is used instead (according to Hyperion's FAQ).
intuition.library v45 is used as default so you can drag windows off screen.
New Startup-Sequence takes its place in S: (a backup of the old one is created first).
Unsupported languages are disabled for system preferences (the localisation still works for 3rd party programs).
AmiKit patches are reset to their defaults and some obsolete ones are disabled.
Once completed, you will be prompted to shut down the emulation and restart AmiKit. This is necessary step for the new ROM modules to take their place in your current ROM on next startup. You don't need to use new ROM at all, see next question.
---
SHOULD I USE NEW ROM 3.1.4?​
---
No, it's not necessary. AmiKit works perfectly fine with your current ROM. By default, AmiKit inserts new ROM 3.1.4 modules into your current ROM automatically and on the fly. You don't need to take care about it at all. That is recommended solution for AmiKit. Alternatively, for whatever reasonf it is also possible to use new ROM 3.1.4 (Kickstart 46.143) with AmiKit (in WinUAE > ROM settings).
---
---
The new, cleaned-up, polished Amiga operating system for your 68K machine fixes all the small annoyances that have piled up over the years. Originally intended as a bug-fix release, it also modernizes many system components previously upgraded in OS 3.9.
​
Contrary to its modest revision number, 3.1.4 is arguably as large an upgrade as OS 3.9 was, and surpasses it in stability and robustness. Over 320K of release notes cover almost every aspect of your favourite classic AmigaOS -- from bootmenu to datatypes.
​
AmigaOS 3.1.4 as the biggest upgrade since the days of AmigaOS 3.5 and 3.9.
Over 20 Kickstart ROM modules and many more disk-based core OS components were fixed, updated, or added.
​
Native support for all Motorola 68000-68060 CPUs, and a more robust Auto-Configuration process.
​
Support for large hard disks, including boot, for any OS 2.x/3.x-compliant controller driver supporting HD_SCSI_CMD, TD_64 and/or NSD. Dedicated boot partitions are a thing of the past, even on legacy devices. You can also use variably-sized "super floppies".
​
A modernized Workbench as powerful as the OS 3.9 version, including new or refreshed Preference editors in the legacy OS 3.1-"GadTools" style. Its tools such as DiskCopy and Format fully support large media. Printer, hard disk and many other support tools have been fixed and upgraded.
​
Remember "Diskdoctor"? It earned its PhD and is now ready to reliably rescue data from your floppies or hard disks.
​
The CLI/Shell and many of its commands have been reworked and modernized, now sporting native support for pipes, softlinks, hardlinks and long filenames. New commands support running Workbench programs from the Shell or upgrading ROM modules.
​
CrossDOS and the CD-ROM filesystem are now smarter, faster, and multi-threaded, adding Rockridge and Joliet extensions as well as UDF.
​
Fully reworked, modernized and bug-fixed printer drivers include support for PCL and PostScript, along with legacy NEC and Epson printers.
​
An optional upgradeable intuition.library provides off-screen dragging of windows for native and P96 RTG screens.
​
A colorful, professionally designed icon set is included, along with the traditional four-color icons.
This is mainly a bugfix update to AmigaOS 3.1.4, however a few small features managed to slip-in:
​
Danish (dansk) and swedish (svenska) AmigaOS catalogs

Setpatch now has the ability to load both an audio.device and a Shell-Seg update by itself

Audio.device got improved compatibility with some non-standard programming practices

HDToolBox now suggests more adequate block sizes for large drives

CrossDOS is now more tolerant to wrongly configured mountlists and foreign character sets

Of course, we managed to address many more bug fixes. The change log is more than 260K large and covers components such as the CDFileSystem, the new intution support, audio device, disk support (Format, FastFileSystem and HDToolBox), the Shell, several AmigaDOS commands, DiskDoctor, and many more components.

AmigaOS 3.1.4.1 is available as free download for registered customers of AmigaOS 3.1.4.
© 2018 AmigaOS 3.1.4 by Hyperion Entertainment. All Rights Reserved.
Boot GIF created by Mattias Karlsson.