Boot your Pi 'straight' to Amiga
400+ Amiga apps ready for use
Beautiful 1920 x 1080 desktop
Armed with modern technology
Get the best of both Amiga & Linux worlds
Supports fast SSD and Flash Drives
A modern retro desktop Amiga pre-designed with 400+ AmigaOS3.x apps & games
on a bootable all-in-one image to go straight to your own 16GB+ microSD card, USB3 Flash Stick or SSD
1. Raspberry Pi 400 (recommended)
or Pi 4 (Model B, 2GB or more, with a fan and heatsinks!)
​
2. Full HD 1920x1080 monitor (recommended)
(minimum HD Ready 1366x768)
​
3. microSD card (16GB or larger) or USB3 Flash Stick
or SSD (recommended), and balenaEtcher to flash image to it
​
4. USB Flash Stick (1GB or larger)
to deliver your AmigaOS ISO to AmiKit - see the other panel
​
Frequently Asked Questions
Why does AmiKit XE cost money?
---
I spent an unbelievable amount of time and effort putting everything together, an enormous amount of work that included the following:
A complete system re-design, including custom programs, and overall integration
Enhanced functionality, extensive and fine-tuned user interface enhancements
Every included program has been pre-installed, pre-configured and integrated, and most include optimizations that go far beyond the default installation settings
Comprehensive testing and debugging
All of this requires time, time that I must balance with the needs of my family & day job. The fact is, paying for AmiKit XE ensures that I can continue continue working on this project, providing user support, and also facilitates ongoing development, the hallmarks of a dependable & superior product.
All this said, I also provide fully functional FREE AmiKit X for Windows / Mac / Linux. It's the edition from 2017 representing 15 years of intensive development. Enjoy! -- Ján, the author of AmiKit
---
What do I need to run AmiKit on my Pi?
---
You need Raspberry Pi 400 (recommended) or Raspberry Pi 4 (Model B with 2GB RAM or more - just attach a fan on the CPU and a few heatsinks on the other chips too). You also need your own microSD card (16GB or larger) or USB3 Flash Disk ( update your Pi4 firmware first if necessary) or SSD (recommended) on which you flash the purchased AmiKit XE image. To flash the image, you will need balenaEtcher for Windows, Mac or Linux. You also need AmigaOS ISO ( Amiga Forever is strongly recommended, versions 7/8/9/ are supported, Plus or Premium editions, not the Value one) which you deliver to AmiKit on your USB Flash Stick. The AmigaOS cannot be included due to copyright reasons, but it will be imported to AmiKit automagically: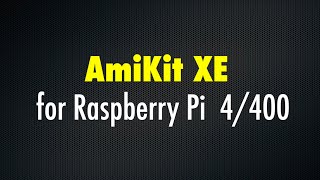 Or read INSTALL INSTRUCTIONS PDF Also check our Quick Guide for some useful tips & tricks. -------------------------------------------------------------- PS: AmiKit is also available for Windows, Mac, Linux and Vampire
---
What is the "Rabbit Hole" ?
---
This special feature of AmiKit allows you to launch host Linux applications directly from your emulated Amiga and run them on your AmiKit desktop:
Cool, isn't it? But that's not all. You can also open Amiga files with your favourite Linux apps. At the moment, the following file types are supported, if double-clicked in AmiKit: AVI, DVD, Flash, FLC, FLI, FLV, GIF, MOV, MP3, MPEG, WMV, MS Office, PDF, RTF, Video, Documents, HTML, etc. There are some limitations, though. Long story short, clicking on the AmiKit desktop makes your host Linux apps disappear (under the AmiKit full-window). You need to press Alt-Tab to bring them back again.
---
Which Amiga model is emulated?
---
AmiKit is specifically based on Amiga 1200 (based on Motorola CPU processor) running AmigaOS 3.x., but you can emulate any classic Amiga model from Amiga 500 to Amiga 4000, actually. In fact, AmiKit can run any Amiga 500 / 600 / 1000 / 1200 / 2000 / 3000 / 4000 program, game or demo originally written for Motorola 68000 / 020 / 030 / 040 / 060 CPU processors (including 68881/ 68882 FPU coprocessor). -------------------------------------------------------------- If you would like to emulate newer AmigaOS 4.x version (based on PowerPC processors), check our FlowerPot for Windows, Mac or Linux.
---
I have more questions...
---
I am here to help! If you don't find the answer in AmiKit Quick Guide, feel free to check Support Forum. I usually answer the same or following day (European time).
---
How fast is it?
---
Amiga performance of ~800 MIPS and ~200 MFLOPS is achieved on a standard Raspberry Pi 400 without overclocking. That is ~600 times the speed of a stock Amiga 1200 (and ~5 times faster than V4SA). Check our Quick Guide on how to safely overclock your Raspberry Pi 400 up to 2.1Ghz (or even to 2.2GHz if you don't mind voiding your Pi warranty) to achieve ~1000+ MIPS and ~250+ MFLOPS. That equals ~750 times the speed of Amiga 1200 (and ~6 times the speed of V4SA).
---
Okay, what are the limitations?
---
AHI audio system is not supported yet (but it's planned!). That means you won't hear any sound if an app/game/demo uses AHI for audio output (or it refuses to launch at all).

Virtual Mouse Driver

in AmiKit enables a smooth experience when switching between Amiga and Linux apps. However, some Amiga programs (like AmiStart, DOpus and probably others) might not fully register such a mouse pointer. For instance, a DOpus' menu doesn't work correctly if invoked by the right-mouse button over an inactive window. The window under mouse the pointer has to be activated first (with left mouse button). Anyway, you can always

disable Virtual Mouse Driver in Amiberry Input settings.

Just bear in mind that it has to be done before the emulation is started (it cannot be enabled/disabled on the fly).
Linux windows make

"ghosts" effects

when moving them. You can always prevent that by enabling "display compositing" in "Compositor" tab of "Windows Manager Tweaks" settings, but be advised that it also decreases the Amiga emulation speed considerably.
Some games/demos might not work as expected with

JIT (just-in-time) compilation

enabled. You can always turn it off/on (even on the fly) in Amiberry CPU settings or in AmiKit right-mouse menu. Be advised that if turned off it decreases the Amiga emulation speed considerably.
Mouse and Joystick

ports might get swapped

if your joystick is plugged in during boot.
---
What's planned next?
---
Thanks to your continuous support of AmiKit we will be able to focus on the following areas:
NEW AMIKIT FEATURES AND UPDATES (and bugfixes too)
REGULAR UPDATES OF INCLUDED AMIGA SOFTWARE
Better RABBIT HOLE functionality for even smoother modern retro experience
For AmiKit support and bug report please visit AmiKit Support Forum Thanks to your support of Amiberry on Patreon the following areas will be added/improved:
16bit AHI audio support (currently only Paula 8bit++ audio mode is supported)
Better HOST-RUN functionality for smoother Linux integration with Amiga
Better FILESYSTEM support for Amiga files, their specific attributes, etc.
Better AMIGA COMPATIBILITY by improving JIT (just-in-time) compilation
Implementation of MORE FEATURES coming from WinUAE (such as VHD/CHD disks, Accelerator boards, etc)
For Amiberry support and bug report please visit Amiberry website, GitHub or Wiki
---
Is AmiKit for me, actually?
---
If you're completely new to Amiga world, or you owned an Amiga back in the times and now you would only like to play some games again and nothing else, well, while that is certainly possible with AmiKit, there are probably more simple solutions for you (check Amiga Forever, for instance). AmiKit aims to provide a full AmigaOS experience and beyond. That involves enhanced operating system capabilities and features. And while we made everything as easy as possible (everything is pre-installed and pre-designed), some basic Amiga knowledge is required to fully enjoy (and appreciate) the AmiKit package.
---
---
Dimitris Panokostas, Philipp Lonke, Jakub Hajda, Dwight Bonney, Keith Matthews, Stephen Jones,
Epsilon, Krzysztof Radzikowski, Philippe Carpentier and Marcin Pianka for support, suggestions and testing!
The Raspberry Pi edition would not have been what it is without you!